99Prints NYC: PHOTOGRAPHY, PAINTINGS, WORKS ON PAPER
99PRINTS NYC
Welcome!
99Prints NYC is an online art marketplace for today's collector of classic photography, limited editions, and contemporary art. Based in New York City, 99Prints ships worldwide.
From 2012, the online gallery 99Prints NYC has sold photographs by Eugene Atget, Peter Beard, Henri Cartier-Bresson, Elinor Carucci, Howard Edgerton, Morris Engel, Elliot Erwitt, Roberta Fineberg, Martine Franck, Leonard Freed, Hank Gans, Ormond Gigli, Burt Glinn, Ernst Haas, Philippe Halsman, William Helburn, Carl Hyatt, Contemporary Japanese Photographers, Robert Mapplethorpe, NASA, Helmut Newton, Ruth Orkin, Martin Parr, Willy Ronis, Martin Schoeller, Dennis Stock, James Van Der Zee, Jean-Michel Voge (JM), Alfred Wertheimer, Yu Hanyu in addition to contemporary art by a.muse, Bai (Carl Karni Bain), and Seund Ja Rhee to collectors in the United States, Mexico, Canada, The United Kingdom, Europe, the Middle East, Asia, and Australia.
Works' provenance: artists' studios, archives, estates, and private collections.
99Prints NYC invites you to experience and purchase art from the affordable, primary, and secondary markets with one easy click. 
learn more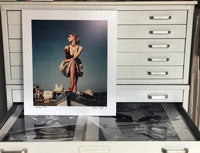 What Collectors Are Saying
Incredible experience. [The online gallery] helped me pick out a suitable frame. Extremely communicative and reliable!

Annie | San Francisco, USA
Very professional, fast and helpful.

Lynne | Brooklyn, USA
The purchase got to me very quickly. ...Very communicative and accommodating in figuring out the best way to get it to me. Could not have been easier.

Kevin | New York City, USA
The piece was delivered as represented. Great seller, easy deal.

Mark | Singapore, Asia
Absolutely beautiful print in perfect condition. Also the delivery was really fast considering it required international shipping. Very pleased with my purchase.

Abby | London, UK
99Prints were super helpful and friendly through the whole process, and proactively reached out to ensure the print made it to me promptly and seamlessly.

Yasmina | London, UK
The photo arrived as scheduled and it was immaculately prepared for the shipping, amazing job on all counts! Thank you!

Elizabeth | Tulsa, USA
The packing and shipping of the signed print exceeded expectations. Excellent!

Susan | San Francisco, USA
My experience was exceptional. Very detailed information about the work, instant communication, very instructive and helpful in organizing selling process and shipment.

Elke, Frankfurt, DE