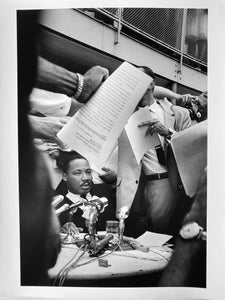 Martin Luther King, 1963 by Ernst Haas is a 14" x 11" gelatin silver print, authenticated by the estate with a stamp on photo verso (back of print) and signed by the photographer's son. Printed in 2019 by Robin Bell. Provenance: artist's archive.

Haas photographed Martin Luther King Jr., one of the most influential African-American civil rights activists from the 1960s, giving a press conference outside the Gaston Motel in Birmingham, Alabama. Martin Luther King (MLK) and members of the Southern Christian Leadership Conference were determined to see their efforts succeed. Following months of careful planning, King initiated a massive desegregation campaign aimed at "the breaking of racial barriers in Birmingham, the most thoroughly segregated big city" in America. When marchers in 1963 took to city streets in peaceful protest, they were brutally attacked by police acting on orders from Public Safety Commissioner Eugene "Bull" Connor. Arrested on Good Friday, King remained in jail for nine days, during which time he wrote his "Letter from Birmingham Jail."

Provenance: Haas Estate

***
Artist's Bio:

"Ernst Haas (1921–1986) is an acclaimed photographer of the 20th century and considered one of the pioneers of color photography. Haas moved to the United States in 1951 and began experimenting with Kodachrome color film. He soon became the premier color photographer of the 1950s. In 1953 LIFE magazine published his groundbreaking 24-page color photo essay on New York City. In 1962 a retrospective of his work was the first color photography exhibition held at New York's Museum of Modern Art. Haas was the author of four books: The Creation (1971), In America (1975), In Germany (1976), and Himalayan Pilgrimage (1978).

Ernst Haas received the Hasselblad award in 1986, the year of his death. His work continues to be the subject of museum exhibitions and publications such as Ernst Haas, Color Photography (1989), Ernst Haas in Black and White (1992), Color Correction (2011), and Ernst Haas: New York in Color, 1952-1962 (2020).

2021 marks the 100th anniversary of the acclaimed photographer."

***
Available at 99Prints NYC an online art marketplace for today's collector of contemporary art, works on paper, original and limited edition photography. Based in New York City, 99Prints ships worldwide.