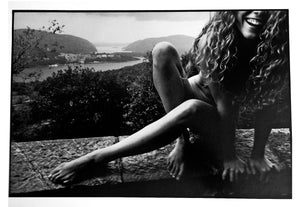 Kate, from the Kate series, Garrison, New York, 2002 by American photographer Leonard Freed is an 11" x 14" gelatin silver photograph signed verso (on back of photo) by the estate.
In the Hudson Valley town Garrison in New York State, Leonard Freed photographed Kate, a woman photographer, who posed nude with an enigmatic smile and curly lion mane. Also a yogini Kate communicated playfulness, freedom, and living in the moment. The self-assigned photo series on Kate became a welcome reprieve for Leonard Freed who during a long photo career tackled subjects for which he became well-known as a social-documentary photographer in the USA.
Provenance: Freed Estate
***
Artist's Bio:
Leonard Freed (1929-2006) was an American photographer from Brooklyn, New York. His "Black in White America" series made him known as a documentarian, a social documentary photographer. Freed worked as a freelance photographer from 1961 onwards and as a Magnum photographer Freed traveled widely abroad and, in the US, photographing African Americans (1964-65), events in Israel (1967-68, 1973), and the New York City police department (1972-79). Freed's coverage of the American civil rights movement is well-known as are his photo essays on New York, Italy, Germany, The Kate Series, among others.
***
Available at 99Prints NYC an online art marketplace for today's collector of contemporary art, works on paper, original and limited edition photography. Based in New York City, 99Prints ships worldwide.