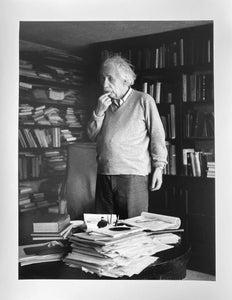 Haas made the portrait of the scientist in the comfort of his home office, with Einstein standing, lost in thought, surrounded by books, stacks of letters and papers.

Albert Einstein, 1951 by Ernst Haas is a 14" x 11" gelatin silver print, authenticated by the estate with a stamp on photo verso (back of print) and signed by the photographer's son. Printed in 2012 by Robin Bell.

In 1932 Albert Einstein had accepted a position at the newly-created Institute for Advanced Study in Princeton, NJ. By 1935 the Nobel Prize winner decided to remain in Princeton and began the formal process of obtaining permanent residency in the United States. The family lived in a two-story house, which would become their permanent home until Einstein's death in 1955.


Provenance: Haas Estate

***
Artist's Bio:

"Ernst Haas (1921–1986) is an acclaimed photographer of the 20th century and considered one of the pioneers of color photography. Haas moved to the United States in 1951 and began experimenting with Kodachrome color film. He soon became the premier color photographer of the 1950s. In 1953 LIFE magazine published his groundbreaking 24-page color photo essay on New York City. In 1962 a retrospective of his work was the first color photography exhibition held at New York's Museum of Modern Art. Haas was the author of four books: The Creation (1971), In America (1975), In Germany (1976), and Himalayan Pilgrimage (1978).

Ernst Haas received the Hasselblad award in 1986, the year of his death. His work continues to be the subject of museum exhibitions and publications such as Ernst Haas, Color Photography (1989), Ernst Haas in Black and White (1992), Color Correction (2011), and Ernst Haas: New York in Color, 1952-1962 (2020).

2021 marks the 100th anniversary of the acclaimed photographer."

***
Available at 99Prints NYC an online art marketplace for today's collector of contemporary art, works on paper, original and limited edition photography. Based in New York City, 99Prints ships worldwide.