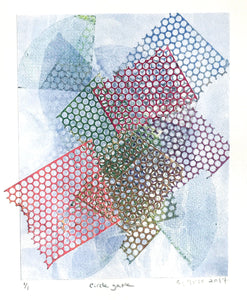 Circle Game, 2017 a work on paper by a.muse is a viscosity inked monotype. The print, the result of an intaglio process (printmaking), is an original, part of a series of (6) images (a hexaptych), 15" x 11." The series, What We Talk About When We Talk About Love, is named after a book of short stories by American writer Raymond Carver.
From an array of printing possibilities available to printmakers, such as photo transfer, riso, photo-polymer intaglio, monotypes, etc., a.muse draws upon mixed-media techniques, including embossing, mono-printing, and collage to produce her contemporary pieces.
Provenance: a.muse Studio
***
Artist's Bio:
Mixed-media artist a.muse's printmaking, collages, drawings, and paintings on paper and canvas tap into serendipity, happenstance, and lucid dreams.
For the works on paper, a.muse employs acrylic, watercolor, oil sticks, sand, and organic matter. The abstract paintings on canvas integrate bright colors, found objects, patterns, shapes, and symbols.
a.muse has exhibited in public and virtual spaces, including Jewell House NYC (2023), Time Gallery New York (2022), Phyllis Harriman Gallery New York studio shows (2022; 2020), CADAF online art fair (2020), Gallery122 New York pop up show (2019), Curate NY online group show (2013), among others.
The artist lives and works in New York City.
***
Available at 99Prints NYC an online art marketplace for today's collector of contemporary art, works on paper, original and limited edition photography. Based in New York City, 99Prints ships worldwide.