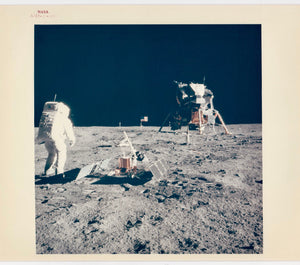 Photographed by Neil Armstrong, Buzz Aldrin after deploying the east solar panel of the seismometer on the lunar surface in July 1969.

This is an 8" x 10" vintage chromogenic print on fiber paper, numbered in red type on recto: NASA (AS11-40-5948) in upper left margin with the "A Kodak Paper" watermarks on verso (photo back).

The "red number" NASA prints made in Houston are the only prints with red numbers. Houston was the terminal for the missions and the first to receive and print the NASA photos. Houston would later send copy negatives to the other Nasa centers across USA. And the other centers usually cropped the images, which were almost never printed 'full frame,' and the balance of colors was also a little different.

The value of vintage NASA photographs from the historic space missions, beginning in the 1960s, is increasing as the scientific community moves forward with innovations to explore distant galaxies, such as the development of the James Webb Space Telescope (JWST).

Provenance: Private Collector

***
NASA photographs from 1966-75 captured the dusty, rocky, beautiful surfaces of the moon and the lunar experiments conducted by the astronauts. The views of the earth taken from the moon were a scientific and artistic feat, which inspired the popular imagination.

Not only was the achievement of guiding a spacecraft to a lunar destination a miracle of engineering but also the process of photographing and relaying images back to earth was unprecedented technologically.

The Webb Telescope Is the latest milestone for NASA and space exploration. The deployment of JWST in space on Dec 25, 2021 from French Guyana allows a team of international researchers, using the telescope's revolutionary hexagonal segments, mirrors, and infrared camera, to survey and study the stars, star clusters, and dust from the beginning of time, the early stages of the universe, at the rocket's destination Lagrange Point 2 (L2), 1.5 million kilometers from earth. On Jan 24, 2022 JWST arrived and parked itself at L2.

***
Available at 99Prints NYC an online art marketplace for today's collector of contemporary art, works on paper, original and limited edition photography. Based in New York City, 99Prints ships worldwide.