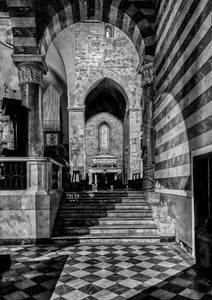 Cathedral, Volterra, Italy, 2015 by Hank Gans, is a 24" x 18" black-and-white landscape photograph of the interior of a Roman Catholic cathedral southwest of Florence in Tuscany. A 12th century cathedral that was rebuilt after the earthquake of 1117 destroying most of the town.

The photographer captures, near the altar, a corner of the cathedral with marble columns, arches, and geometric designs. The floor of the cathedral with its patterned marble complements the striped walls painted in a decorative 19th century Tuscan style.

The photograph is printed by the artist on baryta paper and is in an edition of 5. The museum quality archival pigment print is signed, titled, dated on recto (front of photograph in white margin) by the photographer.

Provenance: Gans Archive

***
Artist's Bio

Hank Gans (b.1948) is an award-winning photographer, including 12 Epson International Pano awards. His work has been featured in Photographis, Lenswork, and is in private collections. Based in New York City and New Jersey, Gans is a fine-art photographer.

From the 1970s-1980s Gans enjoyed a career in commercial photography that was launched after assisting the portrait photographer, Yousuf Karsh, and working as an assistant to Time and Newsweek editorial photographers in the 1970s.

In 1971 Gans met Magnum street photographer Leonard Freed at a New School photo class where Freed stepped in to teach for Diane Arbus who had met an untimely death. Gans and Freed's friendship began and Gans shared Freed's Westbeth darkroom for 14 years.

In 1983 a workshop in Maine with Ernst Haas changed Gans' life and sent him on a journey of self-exploration, which included living with the Hopi tribe in northern Arizona for three years.

Today Gans conducts workshops in San Gimignano, Italy and Tenants Harbor, Maine.

***
Available at 99Prints NYC, an online art marketplace for today's collector of contemporary art, works on paper, original and limited edition photography. Based in New York City, 99Prints ships worldwide.